Aquatics

GROUP & PRIVATE SWIM LESSONS, RECREATIONAL SWIM, AND POOL RENTALS IN SALEEBY & FAYETTEVILLE, NC
YMCA of the Sandhills offers a year-round indoor pool at the Saleeby and Fayetteville Branch for recreational, instructional, and competitive use. Seasonally, our outdoor aquatic center, Rae Of Hope, at 2400 Hope Mills Road, opens for community swim lessons, summer day camp, and swim team practice. Join the Y and gain access to swim lessons, water fitness, lap swim, aqua zumba, lifeguard training, recreational swim, stroke refinement classes, and much more!

---
Swim Lessons: AGES 6 MONTHS TO ADULT
Saleeby Swim Lessons Flyer & FAQ
---
Group Lessons
Group lesson classes meet either two days week, Monday/Wednesday OR Tuesday/Thursday or once a week on Saturdays for 8 total classes. Registration for opens on the 15th of the month prior for all montly group lessons.
Bring in a friend to sign up for GROUP lessons and get $10 off! Call or go into the Sandhills YMCA and register for a private lesson with our instructors.
Youth Conditioning - This class is designed for stroke refinement and is an hour long. Building technique, conditioning, and enhancing endurance. Participant must be able to swim multiple laps, be able to do flip turns, dives, and have the fundamentals of Freestyle, Backstroke, Breaststroke, and Butterfly.
Adult - Our adult swim classes are for all levels of ability from the first-time swimmers to the advanced swimmers who need refinement on their strokes and skills. Adults are taught the essential swim skills, strokes, and techniques needed to become a comfortable and competent swimmer. This class is 45 minutes long.
NEW - Infant Swimming Resource (ISR) at Fayetteville Branch
ISR lessons are one-on-one lessons between your child and his/her instructor. ISR follows time-tested methods and protocols which are designed to ensure your child's safety both in and around the water. Consistency is crucial and your child's progress will rely heavily on regular lesson attendance. ISR lessons are a big time commitment. We encourage family members or friends to share the responsibility of bringing your child to his/her lesson.
What is the difference between Infant Swimming Resource (ISR) and
YMCA Parent/Child lessons?
Accompanied by a parent, infants and toddlers learn to be comfortable in the water and develop swim readiness skills through fun and confidence-building experiences, while parents learn about water safety, drowning prevention, and the importance of supervision.
Nicole Burkhart - certified ISR Instructor
Please call 404-307-8440 or email N.Burkhart@infantswim.com with questions about Infant Swimming Resource (ISR) class at Fayetteville Branch.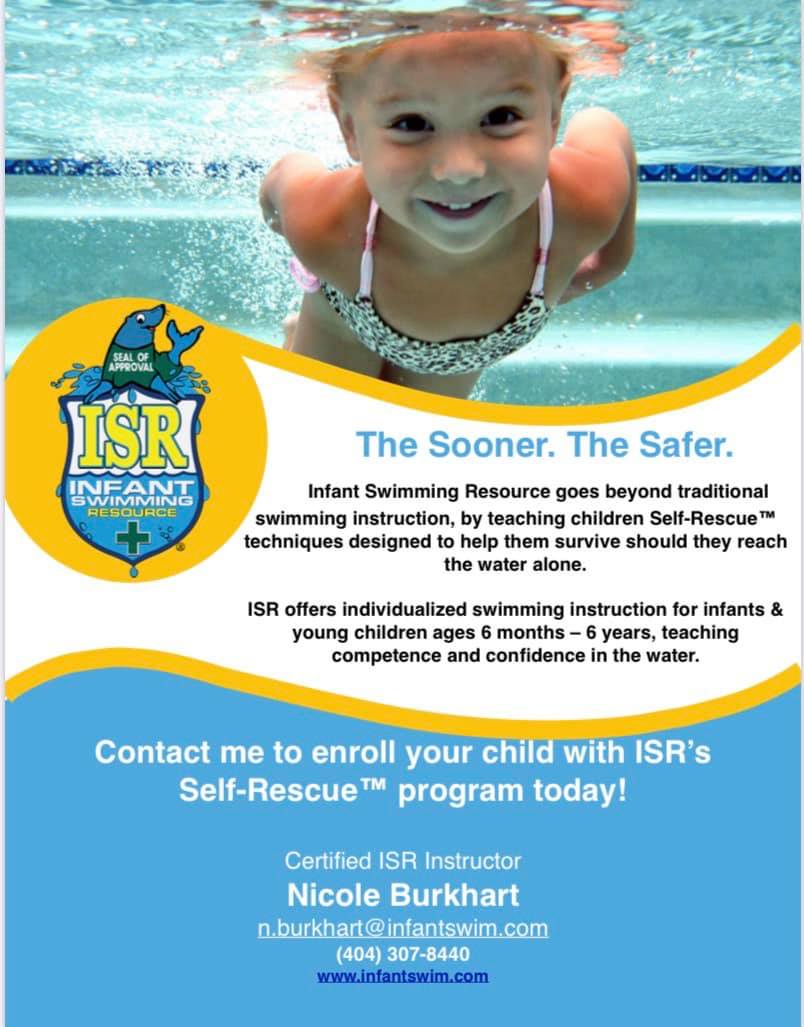 Private Swim Lessons
These lessons are designed to give participants individualized attention with one instructor to achieve their swim goals.
YMCA Aquatic Certification Programs
Contact the YMCA today for first aid training and lifeguard courses!
American Red Cross Lifeguard Certification Class (5-day course)
The Lifeguard Class provides entry-level participants the knowledge and skills to prevent, recognize, and respond to aquatic emergencies and to provide care for breathing and cardiac emergencies, injuries, and sudden illness until EMS personnel take over.
COURSE INFORMATION
American Red Cross LIFEGUARD Certification:
Requirements: Must be 15 years old on or before the last day of class and pass a pre-course Skills Assessment that includes: retrieving a submerged brick at 7-9ft of water, and a 300-yd. freestyle/breaststroke swim. Attendance at all class meeting times is required, as well as completing all assignments, and a passing score of the American Red Cross CPR-PR/AED, First Aid, and Bloodborne Pathogens tests. In order to receive certification, the course fee must be paid IN FULL by the due date.
American Red Cross Lifeguard Recertification / Refresher Class: Certificate must still be active
Requirements: For experienced lifeguards who are needing to re-certify or refresh their skills, and whose certificate has NOT YET EXPIRED.

American Red Cross Community or Professional CPR/AED/First Aid:
The YMCA offers certified CPR classes, for the professional and health care providers. In order to receive your certification you must attend all classes, complete all assignments, and be able to pass the final exam with a minimum of 80% accuracy. CPR classes are held on the Saturday from 8:00am-5:00pm, which coincide with the American Red Cross Lifeguard certification class.
American Red Cross Water Safety Instructor Certification Class:
Requirements: Must turn 16 on or before the last day of class, and be able to pass a prerequisite swimming strokes test. This consists of front stroke, back stroke elementary back stroke, breast stroke, dolphin kick, butterfly, and diving. ln order to receive the WSI certification participants must attend all classes, complete all assignments, pass the WSI and Fundamentals of Instructor Training [FIT] curriculum. The WSI class schedule coincides with the learn to swim program starting at the begining of the month.